Our premium service for your barefoot shoes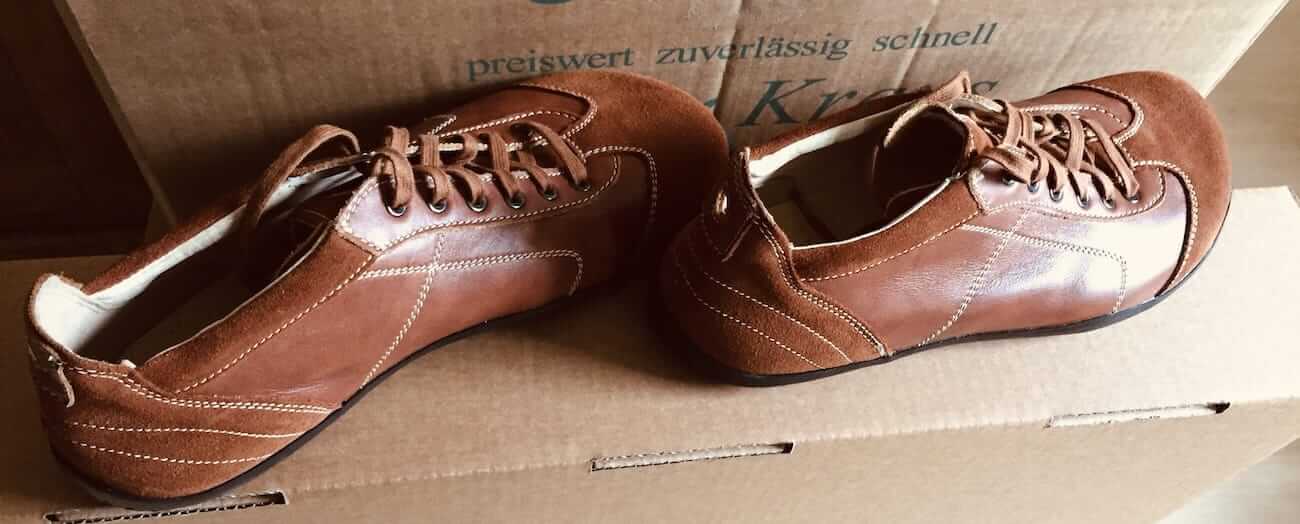 Producing shoes in a workshop gives us flexibility
Since we have our shoes produced in a workshop and are able to customize important work steps, we developed five special services for you and your feet. First and foremost, we replace your outsole. We were the first producer to introduce this feature to the barefoot shoe market. This made us the innovation leader. Next, we offer to make your shoes wider. We don't need intermediate sizes, instead we use special machines at the workshop to make your barefoot shoes one half size wider for your feet. Even after wearing our shoes for a few weeks, you can send them back to us and we will make them wider. Of course the quality remains high, as with all our other Senmotic barefoot shoes. As you see, a workshop offers completely different possibilities of customization. Choose from our five special services:
Service no. 1: Outsole replacement
We replace the soles of your Senmotic barefoot shoes. As the first barefoot shoe manufacturer worldwide, we developed an innovative technology in 2010 to make this service possible. If you send us your kicks
to replace the soles, we also polish the leather upper and re-seal it. Of course we also put new laces into your shoes. This unique service costs only EUR 69.90 (tax included) plus EUR 3.90 for shipping.
Service no. 2: Making your barefoot shoes half a size wider
Should one size be slightly to narrow or flat, and you fear the next size might be too large, we can widen your barefoot shoes at our workshop. Of course with our usual standard of quality. Widened shoes are normally one half size (0.5) larger. We can also widen shoes after you've worn them for a while. This unique service costs only EUR 14.90 (tax included) plus EUR 3.90 for shipping. Widened shoes are not refundable.
Service no. 3: Different sizes for left & right
Some people's feet develop differently, so they need different sizes. Such people have a pretty hard time finding shoes. We will gladly make different-sized shoes for you at our workshop. Of course, your warranty and refund rights remain the same. For this service, we charge only EUR 25 (tax included) per pair of barefoot shoes.
Service no. 4: Modifying barefoot shoes for slim feet and low arches
If you have slim feet and/or low arches, our barefoot shoes will usually fit lengthwise. But you may have trouble tying the shoes tight, and your feet will not find sufficient hold. In this case, we can remanufacture a modified version of our shoes, making your barefoot shoes one size smaller around the lace loops, while keeping the same length. The barefoot shoe's leather will not have any wrinkles. You really have to look closely to tell the difference to one of our standard models. We still recommend that you first order a normal model and try it on. You can order a modified shoe after you are sure that the length fits you. Because modified shoes are not refundable. This service costs only EUR 19.90 (tax included) plus EUR 5.90 for shipping.

We also modify barefoot shoes that we offer on sale. You will still pay the reduced sales price for the modified barefoot shoe. Attention! We cannot modify finished or worn barefoot shoes afterwards. We have to make these shoes new to adjust the barefoot shoes to your arches.
Service no. 5: Leather lining for the higher H1 models

Our high H1 models are made with woolen lining at the workshop. Because Senmotic shoes allow your feet to move naturally, your blood circulation will improve and your feet stay warm even at cold temperatures. Some people find this too warm. Therefore, we offer our H1 models with leather lining at no extra cost! These custom-made Senmotic shoes are not refundable.

If you want to order one of our services, just use our contact form and tell us your wish. We also gladly answer all your questions by phone. Just call us. Here are our phone service hours.